Gilbert L. Hermance Award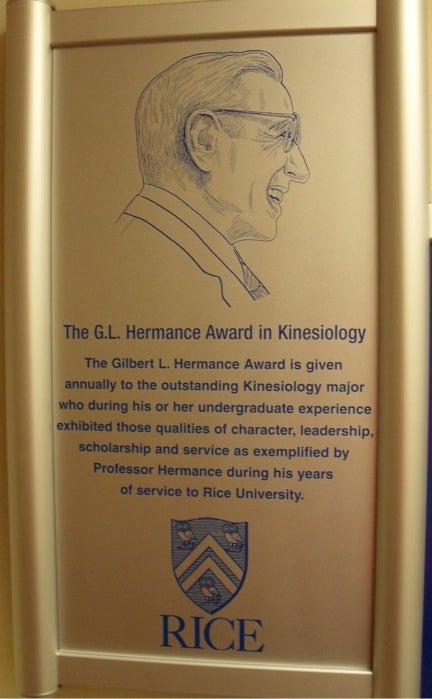 The Hermance Award is presented annually to graduating seniors in the Kinesiology Department who have exhibited exemplary qualities of scholarship, leadership, character, and service during their undergraduate experience.
This award is in honor of Dr. Gilbert Hermance who was a faculty member and Chair from the 1930's to the 1970's, and made numerous valuable contributions to our department. The award, made possible by gifts from Mr. Hermance's friends and colleagues following his retirement, was first presented in 1972.
There is one award per program (Health Sciences and Sports Medicine & Exercise Physiology), and the selection of the recipients is made by the current faculty members in the Kinesiology Department.
The award is presented during the Kinesiology graduation reception with the winners receiving a plaque. Further, the winners' names are displayed in our office hallway along with past winners of this award.
---
Distinction in Research and Creative Works
This award recognizes research accomplishment of exceptional quality of in Kinesiology, health, sports medicine, or related field as judged by a committee of faculty. Graduating Health Sciences and Sports Medicine & Exercise Physiology majors who meet department and university requirements are eligible to apply for this award.
In order to qualify for the award, please submit the following:
Declaration of intention to apply for this distinction.
Summary statement of the research achievement with project title.
Documentation of research achievement in the form of published papers, thesis, pre-publication manuscripts, or electronic files of presentations (PowerPoint or poster)
A supporting letter from the students' advisor should detail the student's research accomplishments and intellectual contributions.
Required application materials must be submitted by April 15th of the spring semester before graduation.
Please submit all application materials to Kellyn Haywood, Kinesiology Department Administrator via email at kellyn.haywood@rice.edu.
For more information visit the General Announcements page by clicking here.